This event marks our return to countryside working after lockdown3. Still subject to rigerous covid-countermeasures.
There will be a variety of work around the location whose intention is to bring children a little closer to nature. RSPB has excavated a pond in boggy ground. The focus for work in week 1 will be 2-fold. Construction of a shelter and spade work to install rainwater collection drains into the pond.
For week 2 there will be hoggin paths and hard-standing around the shelter to be laid. And a deck alongside the pond to construct
Over the two weeks and will require to segregate into small task teams observing the rule-of-6 separation rules while on site. Martyn S. is acting as project manager for RSPB and will direct us towards the work.
Please bring your wheelbarrow if you can. There will be hoggin to transport again this week.
ease arrive at the RSPB carpark at about 9.30 so you have time to walk to the lodge for a 9.45 briefing.
For those of you into maps, check out the free mapping resource from National Library of Scotland that Bazz has sent a link to
Franchises Lodge over the centuries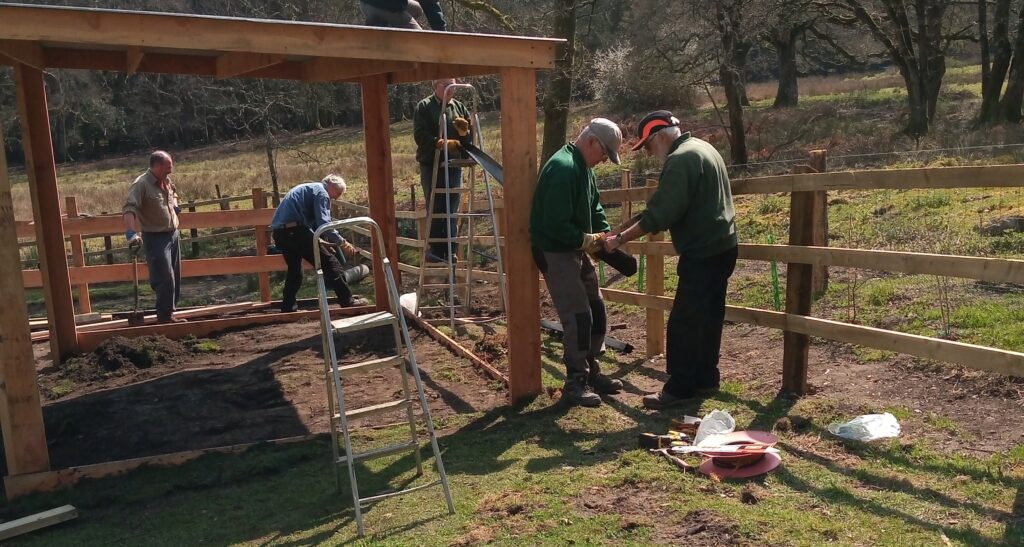 Images below from our first day of work …